March 2021
My apologies for the delay in sending out this newsletter. I have been quite busy restocking our shelves with new fabrics! :)

Thank you for your continued support throughout this last year - you are the reason we can continue buying new fabrics!

We have added new batiks, basics, digital prints, outdoors/wildlife, western, and Shannon Cuddle... and we are expecting more. I will attach some links for you to check them out! March 20th is technically the first day of Spring, as well as National Quilting Day, and my hope is that we are all able to enjoy a day of sewing and/or sunshine! Please note that we will be closed on Sunday, April 4th (Easter).

With gratitude,
Sarina

I have a put few kits on sale on our "Featured!" tab on our website Check it out. http://www.deercountryquilts.com/shop/Featured.htm

New Fabric:
Suede by P&B Textiles http://www.deercountryquilts.com/module/search_content.htm?showSearchResults=1&search_keyword=suede&paging=1

Pop Dots by Windham Fabrics http://www.deercountryquilts.com/module/search_content.htm?form_version=2&showSearchResults=1&search_keyword=51527&image=Search

Digital prints by Hoffman Fabrics http://www.deercountryquilts.com/shop/Digital-Prints.htm

Cuddle by Shannon Fabrics http://www.deercountryquilts.com/shop/Cuddle.htm

Forest Retreat by P&B Textiles http://www.deercountryquilts.com/module/search_content.htm?form_version=2&showSearchResults=1&search_keyword=FRET&image=Search


---
Please call our store to sign up for classes (406) 677-2730. Classes start at 10:15am, or 12:15pm as stated in the class description. The instruction is free. You can find more information for each class on our website by clicking on the picture.

---

2nd Monday Class
Monday, March 8th, 10:15am-1:00pm
Join Teresa and Sarina for instruction on making "Six Halves Make a Whole Sampler" by The Quilt Branch, using Creative Grids' House Ruler.

---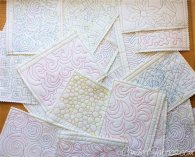 Free-motion Quilting
Monday and Tuesday, March 15th-16th, 10:15am
Come learn how to free-motion quilt on your sewing machine. This is a two-day class, and you will be able to leave your machine and supplies at our store overnight.


---


Pinwheel/churndash Table Runner Class
Sunday, March 21st, anytime during business hours (12pm-4pm)
LaRee will demonstrate how to construct these fun blocks and turn them into a table runner - or maybe you'll want to make a quilt!


---


One Block Wonder With Panels
Tuesday, March 30th
Join Toni for this class on turning 7 of the same panel into one fabulous quilt! We will be offering this class for several months, as the first few sessions will be centered around prepping your fabrics.


---


New Block of the Month (BOM) opportunity! LaRee is making these adorable bitty barn blocks by This & That which will make the perfect decoration for every month! She has the first 6 done and they are pictured above. She has done a great job of choosing fabrics that represent each month. Each month includes the fabrics for the top, binding and backing for the 8 1/2" block; the patterns will be included in the 1st, 4th, 7th, and 10th months. This BOM program is $10 a month for 12 months. Call our store to sign up!