Deer Country Quilts May Newsletter

May 2015
What a nice trip we had to the Czech Republic! We loved the time we got to spend with our Czech daughter Hana. Watching a world class marathon is pretty cool. Of course the Kenyans won! Hana and I were marathon spectators! Loren ran in 4 hours and 5 minutes and Megan ran it in 5 hours and 35 minutes. Loren was running with a hurt calf and this was Megan's first marathon! I am very proud of them.
I looked for a fabric shop in Prague but didn't find much as we walked about. One shop had yarn and floss. Another had lots of fabric for home dec and dresses but I did manage to find some Czech glass buttons there:) As beautiful as the city and countryside is there, it is true that there is no place like home! Happy Quilting! Pam
We've Got Your Back Sale! May
21-23
Bring in your completed quilt top and get 30% off your backing fabric. Bring in as many tops as you like and save big! You must bring in your completed top to get the savings!



We have a couple new Block of the Months in the works. We should have pricing and be ready to start them in June. We can take preorders for any of them! We do not charge a registration fee!




Blessed Bee
48" x 62"
All queen bees are sure to love this wool
applique' quilt by Wooden Spool Designsl We are using
Tammy's hand dyed wool to applique on textured woven
backgrounds. Price still to be determined.







Always the Season
56" x 70"
This is a 6 month BOM designed by Vicki Bellino from Bloom Creek. Faye Burgos has designed another wonderful fabric line using her Strip-It pre-printed stripe and beautiful coordinates. Cute feather tree! $22.00/month.





Flannel BOM
57" x 73"
Teresa is starting a new block of the month
and we love the fabrics by Timeless Treasure.
The color scheme is blues/reds/golds/greens
on creamy backgrounds. $18.00/6months


Save the dates! We never need a good reason for a road trip!!



Big Sky Shop Hop- June 12-27
Grab a passport and head on out to the many shops around Montana. Be sure to pick up a clue in your circle to make a Mystery Quilt by Debbie Caffery. Checkout the details here!




Row by Row Experience 2015- June 21-October 31
We are participating in the Row by Row Experience this year. This is a national
shop hop of sorts only with no passport. Each shop will have their own pattern for a Row Quilt. The theme is H2O. Check out their web site for more information.
Row by Row Experience



Classes




Mystery Tuesday
Tuesday May 26th
Toni Peckenpuagh
Join Toni for a beautiful new block of the month! She is teaching her own mystery pattern "Under the Big Sky" and/or "Desert Stars". The final quilt is a mystery! Kits include all foundation pieces and instructions. $20/month
Click here to sign up!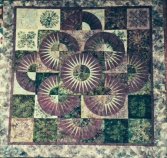 Techniques with Toni
Saturday May 16
Toni Peckenpaugh
Bring any project that Toni has taught and she will guide you through finishing it up!
Click here to sign up!





Make a Mini!
Terry Vick
These cute little mini quilts are designed by our own Terry!
Starting with the flag in June you will be all set to make a
festive 4th of July display or make more and have placemats!
If you are interested call the shop and we will set up a time
for a class that works best for everyone. She has a series of Mini Quilts that can take us through the summer!