July 2015
Happy Independence Day!


Enjoy your weekend and be safe! We have had beautiful summer weather but to much of a good thing is not always a good thing. We are already in extreme fire danger and our fireworks have been canceled due to dry and windy conditions. Somehow I don't think that will ruin the spirit of the day. Everyone still loves a birthday party! On a side note, our annual sale has been moved from the 3rd weekend to the 4th. Tammy and I have signed up to take a class from Sue Spargo in Kalispell the 3rd weekend. We are definitely addicted to stitching and love all things Sue! Happy Quilting, Pam


Annual Summer Sale


July 23, 24, 25, & 26


All fabric, book, patterns, and notions will be 25% off! Also, extra savings on select items.
Be sure to mark your calendars!


Upcoming Classes
Our classroom is always open for groups to use. Just call ahead to check if it is use. We are also happy to schedule a class for a group upon request!



Santa's Village Block of the Month
Saturday July 11
Pam Rose
We are starting a new quilt this month! This pattern is by ThimbleCreek Quilts, and we are doing the center applique first. Join us for this whimsical Christmas quilt! Pam will give instructions on cutting and applique short cuts and techniques. Final kit includes binding.
$12/month






Placemats from the book "Six Halves Make a Whole Lot More"
Tuesday July 14
LaRee Morris
Grab 6 half yard cuts and join LaRee to make these super cute placemats! Make them for a gift (it is wedding season) or make them for yourself. In any case we love this book and look forward to making more projects from it!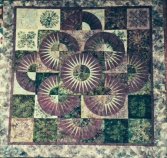 Techniques with Toni
Saturday July 18
Toni Peckenpaugh
Bring any project that Toni has taught and she will guide you through finishing it up! Haven't taken a class from Toni yet...not a problem! She will help you get started with any of her innovative foundation piecing method patterns! Call ahead so she can have the material on hand otherwise no sign up needed--just show up between 10am & 2pm and Toni will be on hand.





Mystery Tuesday
Tuesday July 28
Toni Peckenpuagh
Join Toni for a beautiful new block of the month! She is teaching her own mystery pattern "Under the Big Sky" and/or "Desert Stars". The final quilt is a mystery! Kits include all foundation pieces and instructions. $20/month Please call to sign up so Toni knows how many to expect: 677-2730





Happy Birthday America!