What a pleasant fall we have been having! I so hope the weather holds because I am just not ready for snow quite yet. Loren was in Ketchikan last week fishing. Before he left he told me to have a productive week. I told him I hope so and then I was thinking, what does that mean? When you have a week all to yourself, you kind of want to sit around and do whatever you want and I am not sure that productivity has anything in common with that! I did manage to get my dishes for the week done! I also straightened my hand stitching area and put some magazines into cubes. I am saying mission accomplished! Now onto focusing on quilt retreats for the rest of the month!
Happy Quilting! Pam
We've Got Your Back Sale - This week!!


Plan now to take advantage of our super sale! Bring in your completed quilt tops and get 30% off your backing! Sale dates are October 8th, 9th, & 10th. This sale is limited to in store only, and you must bring in your quilt tops to receive the discount. See you soon!

Grab a cup of coffee and go shopping in your pajamas! We are participating in the Fabshop Hop for October . Click here to register! Then start hopping! When you find the bunny, click on him and you will be registered for amazing prizes! Our bunny is shopping for the holidays...
Crazy for Fall Challenge!
We have 4 special fabric packs to pick from! There is still time!
The rules are simple.
*Purchase a fabric pack for $6 (your choice of 4 fat 8ths)
*You must use some of all 4 fabrics in your quilt
*You must use an element of Crazy Quilting/Piecing (that's the crazy part)
*Your quilt can be no larger than 36"x36", or equivalent of 144 total inches around
*Your quilt must be completed, with label, and brought to the shop by November 20th
We will have a "Crazy for Fall" Gathering Day on Friday November 20th! Join us for gingerbread, hot cider, and coffee to vote for the winner! Fantastic Prizes!
Need not be present to participate, only your quilt:)
Current Block of the Months
Looking for something productive to work on this winter? Our BOM's are mailed out the first week of each month. Call to get your name on a list!
Blessed Bee
48" x 62"
All queen bees are sure to love this wool
applique' quilt by Wooden Spool Designs We are using
Tammy's hand dyed wool to applique on textured woven
backgrounds. $20.00/month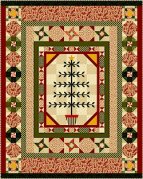 Always the Season
56" x 70"
This is a 6 month BOM designed by Vicki Bellino from Bloom Creek. Faye Burgos has designed another wonderful fabric line using her Strip-It pre-printed stripe and beautiful coordinates. Cute feather tree! Make it as a BOM or get the complete kit and have it done for this Christmas. $22.00/month.










Flannel BOM
57" x 73"
Teresa is starting a new block of the month
and we love the fabrics by Timeless Treasure. The color scheme is blues/reds/golds/greens on creamy backgrounds. This is a 6 month BOM.
$18.00/month





Santa's Village Block of the Month
61" x 61"
Who can resist this whimsical Santa?? We have made Santa's Village by ThimbleCreek Quilts into a 12 month block of the month. You can have a new Christmas quilt for next year! $12/month








Deer Country Quilts