Woo Hoo!! The ground hog did not see his shadow so spring is supposed to come early! Unfortunately the ground hog does not live in the mountains of Montana. If the snow is melted by the middle of April, we consider that an early spring! This is when coming to a quilt store everyday is great. We get to play with bright beautiful fabrics so it is always spring around here no matter the forecast. New shipments of fabrics should be arriving soon including a lot of new batiks. March and April will be big shipment months. New fabric always puts sunshine in our hearts! Speaking of sunshine in my heart, March will be bringing me a new grand daughter! Erik and Tomoko will be expecting Claire Hana to arrive March 23rd right between retreats and Easter. My bright cheery purple and pink fabric is picked out for her quilt. It will be a good spring indeed! Happy Quilting, Pam
Griz and Bobcat Fabric Update!

Unfortunately, it is monsoon season in Indonesia, and that means its too rainy to dry our beautiful fabric on the beach! Our shipment has been delayed, but should be arriving the end of this month. If you have already pre-ordered the Griz batik we will cut your yardage first and call you so you know its ready to pick up. We also will be getting in the Bobcat batik.
*Upcoming New Classes*
Mug Rug of the Month
Tuesday February 9th with LaRee
Mug rugs are certainly popular, cute and easy to make! Join LaRee and make one a month. This month is this adorable penguin! Pattern available at class time.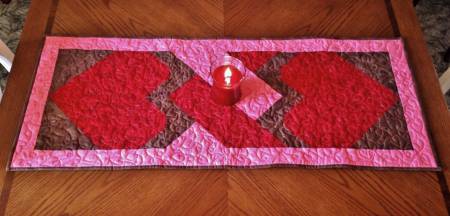 Love Knot Table Runner
Wednesday February 10th with LaRee
Make this super quick table runner in time for Valentine's Day! Just add a candle
(or a dish of chocolates) and you are set! You can make this in an afternoon. Pattern is by Cut Loose Press and is only $3.50.
Beginning Quilting
Friday February 17th & 19th with Sharon
This class will start at the very beginning and teach you how to rotary cut, accurately piece, and put on borders. This triple rail fence is fun and easy for a beginning project.
Houses, Houses, Houses!
Wednesday February 24th with Renee
Come learn the art of needle turn applique (or fuse if you prefer) from one of the very best! Renee will be sharing all of her secrets for perfect houses! Book by Yoko Saito required.

Self Binding Receiving Blanket
Monday February 26th with Sarina
This super cute receiving blanket is really quick and easy to make! Sarina did simple patchwork for the front, or you could use a solid piece of flannel. Come whip one up today for that new baby!



*Our Regular Group Events*
Souper Sew day- Friday February 5th
Bring your own projects to work on and let us serve lunch.
Please call ahead. $5.00
The Gentle Art of Hand Stitching- Friday February 12th
Anyone who has an interest in hand stitching is invited to join us for a
girls day out!
2nd Saturday BOM- Saturday February 13th
We are continuing with our "Santa's Village" blocks.
Mrs. MacDonald's Farm- Thursday February 18th
We have just gotten started with this wonderful new block of the month! If you would like to participate, please come and join us.
Techniques with Toni- Saturday February 20th and Tuesday the 23rd
Bring any project that Toni has taught and she will guide you through finishing it up! Haven't taken a class from Toni yet...not a problem! She will help you get started with her innovative method of foundation piecing.