I hope everyone has had a good summer. We have enjoyed getting to know a few of our summer visitors and will miss them as they move back to there other lives. We know we have made friends from all parts of the country! Fall certainly feels like it is just around the corner. The weekend forecast is for rain and to be in the 50's. The 1st college home game is this weekend. My oldest grand daughter just started kindergarten. Starbucks begins serving their Pumpkin Spice Lattes. The daylight hours are beginning to get shorter. Yep, it is beginning to feel like fall! Fall in Montana is a beautiful time to travel.
Their are several local quilt shows to take in. Also be sure to check out the details of the mini shop hop we are a part of! What a great way to get inspired especially if you have taken a break from quilting for other summer activities. Happy Quilting, Pam
Note:
starting on September 11th, our Sunday hours will be from 12:00-4:00


***Shop Hop***
September 30th – October 9th 2016

We are doing a mini shop hop with these stores:
Quilters Corner- Deer Lodge
The Fabric Room @ Upper Thread- Ananconda
The Cotton patch- Drummond
Going Quilting- Missoula
Timeless Quilts- Missoula
Vicki's Quilts Down Under- Missoula

Get your passport stamped at every store to be eligible for the Grand Prize drawing. 3 Grand Prizes will be awarded. First place is a Janome Sewing Machine valued at $999. Second place is a one night of a 3 night stay free at Mountain View Retreat, a $300 value and third place is a fabric dying session for 2 people at The Cotton Patch Quilt Shop in Drummond, a $100 value. Each individual shop will also have a door prize drawing.
Leave your passports at the last location you stop at or mail to Quilters Corner no later than October 17th.



Classes



Home Sweet Home
Saturday August 5th
with Terry Vick and Kitty Nelson
Join Kitty and Terry for a fun filled class! Learn about color and composition to make these adorable houses! Book "Row by Row Experience Coloring Book" required $7.99




Crystal Blue
Every Monday in September
with Toni Peckenpaugh
We are starting a second wave of classes for this amazing quilt. Everyone in the 1st session completed theirs! Choose from one of 3 colorways- Crystal Blue, Crystal Clear, and Crystal Bloom. All of the pieces for the 90" x 90" top are precut! Kit is $198.00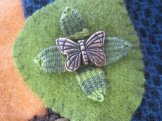 The Gentle Art of Hand Stitching
Friday September 9th
This is a day to get together with friends to work on any hand project of your choice. We enjoy sharing and learning from each other!




On The Horizon BOM
Saturday September 10th
with Pam Rose
The Tonga batiks by Timeless Treasures have finally arrived so we are able to start our BOM for our 2nd Saturday class! You can also sign up and we can mail yours if you can't come to a class. Finished size is 108" x 108". Price $29.99/month for 9 months




2 for 1 Boston Commons
Tuesday 13th and 20th
with Sharon Pohlman
Just as the title states, you will get 2 Boston Common quilts when you sew the fabric
for 1! Sharon will show you how the magic happens. These are easy enough for beginners!




Houses Houses Houses
Wednesday April 20th
with Renee Lenz
Come learn the art of needle turn applique (or fuse if you prefer) from one of the very best! Renee will be sharing all of her secrets for perfect houses! Newcomers are welcome! Book by Yoko Saito required.




The Look of Hand Embroidery by Machine
Thursday Sept. 16th
with Nancy Richwine
When Nancy gave her trunk show at our Spring Tea, we were all amazed by her quilts that looked like she had hand embroidered on them. She assured us it was done on the machine! She will teach us her technique using this charming mug rug as a sample. We will have a kits on hand. Price TBD depending on kit cost. You need a machine that has a triple stitch. Call for to reserve your space and for a supply list.




Toni's Technique Day
Saturday September 17th
with Toni Peckenpaugh
Bring any project that Toni has taught and she will guide you through finishing it up! Haven't taken a class from Toni yet...not a problem! She will help you get started with any of her innovative foundation piecing method patterns! Call ahead so she can have the material on hand otherwise no sign up needed. This is an ongoing class each 3rd Saturday of the month.




Magic Forest
Tuesday September 27th
with Toni Peckenpaugh
Another beautiful quilt by award winning Dutch quilt artist Jacqueline de Jonge.
Toni will show you how to paper piece to make perfect points using her foundation method. The pattern is $35. There will be an additional charge for Toni's foundations. Toni will continue with Becolourful patterns on the last Tuesday of each month.



***AccuQuilt Sale***
September 18th & 19th
Toni is an AccuQuilt dealer and wants to sell out her inventory. She has one Go cutter and one Go Baby. In addition, all dies will be 50% off. She will be at the store both days with her AccuQuilt cutters and dies to demonstrate how you can save time and be accurate in your cutting with AccuQuilt! If you have been wondering if an AccuQuilt cutter is for you, Toni will happy to answer your questions.





Shop Hopping with friends is the best!














Deer Country Quilts