December 2016

Winter has finally made it's appearance and baby it's cold outside! The snow is always pretty but the cold, not so much! This week we are in single digits and below! Christmas Season is upon us also. I love to see lights, listen to Christmas music, shop, and decorate.
And those wonderful

sappy

happy Christmas movies on the Hallmark channel.....
I hope everyone has a blessed Christmas Season and can take time to enjoy those small things that make everything merry and bright! Happy Quilting! Pam

Holiday Hours
Christmas Eve- close at 3:00
Christmas Day- closed
New Years Day- closed

Annual End of the Year Sale
Thursday December 29th - Saturday December 31st
All fabric, books, patterns, and notions will be 25% off
Christmas fabric will be 35% off
Select kits will be 25% off
Start your New Year with a fresh new project or keep that resolution and get what you need to finish up the old ones!

Upcoming Classes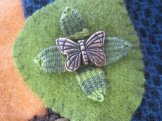 Hand stitching
Friday December 9th
Join us in the classroom and bring your hand work along. It might be a great way to get that quilt bound without any distractions!



Saturday BOM
Saturday December 10th
We will continue working on our "On the Horizon" BOM
If you can't make it to class, we still have a few kits and we can add you to our mail order list. Contact the store for more information.



Fabric Stars
Tuesday December 13th
This fabric star has been all over face book and we love it! Originally made with paper, the fabric version will last for more than one season! Make it with 2 different fabrics, a hot glue gun and Heat and Bond Ultra Hold, which we have. If you can't make it for class we can demonstrate it or help you at any time, just call ahead.




Bag Class with Sharon
Tuesdays December 14th and 21st
Cute gift idea spoiler alert.....
You can choose between the Schlep bag or the candy zipper bags. The schlep bag is a favorite because of it's versatility, easy construction and ability to schlep around just about anything you want to carry!
Everyone loved the candy bags Sharon taught last year. They are especially cute made from holiday candy bags!




Foundation Piecing Toni's Way
Saturday December 17th and Tuesday December 27th
This is an open group for anyone who wants to learn Toni's method of foundation piecing using pattern ease. She has printed foundations for a variety of patterns. You must purchase each pattern and an additional charge for her printed foundations is separate. Magic Forest by

Jacqueline de Jonge

is just one of beautiful quilts she uses her
foundation piecing method with.