Happy February! We had 20 below yesterday morning so I think the groundhog just stayed wrapped up in his quilt and stayed in bed. I know that's what I wanted to do! I also know that we still have a lot of winter left whether he saw a shadow or not. We do however gain 2 1/2 minutes of daylight each day in February. That means about 1 hour and 10 minutes more of daylight by the end of the month!!! That makes my heart happy. I do have to say I had high hopes on catching up on a few things in January including organizing my sewing room but I've only managed to start a new project.
I finally got my patterns, the wool ordered, and backgrounds picked for our new Woodland Whimsy BOM. It is all want to work on now. Funny how everything else just went by the wayside. Next year I'll get caught up and organized!
Happy Quilting, Pam
March Retreat
We still have 1 double room available for our March 23-26 retreat. If anyone is interested please call the store as soon as possible and reserve your spot! The cost of the retreat is $275 with a $100 deposit.
On the Calendar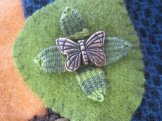 Hand stitching
Friday February 10th
Join us in the classroom and bring your hand work along. It might be a great way to get that quilt bound without any distractions!
Saturday BOM
Saturday February 11th
We will continue working on our "On the Horizon" BOM
If you can't make it to class, we still have a few kits and we can add you to our mail order list. Contact the store for more information.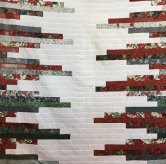 Ginger Stalks
Wednesday February 8th and 15th
Grow your own colorful ginger stalks using 2 1/2" strips. Use a jelly roll or cut your own strips and just add a background. This pattern by Beyond the Reef has fabric requirements for various sizes. This class is part of Sharon's basic quilt classes. Hers is made using a Christmas jelly roll and Teresa's version uses a batik jelly roll. Pattern required, $10.00
Patchwork Valentine Potholder
Tuesday February 14th
Express your love for cooking with this cute heart potholder from the book Pot Holders for All Seasons. LaRee has been making the seasonal projects from this book and they are so cute!
Bring your scraps and join her for a very sweet sewing day! Book required, $14.99
Foundation Piecing Toni's Way
Saturday February 18th
This is an open group for anyone who wants to learn Toni's method of foundation piecing using pattern ease. She has printed foundations for a variety of patterns. You must purchase each pattern and an additional charge for her printed foundations is separate. Magic Forest
by

Jacqueline de Jonge
is just one of beautiful quilts she uses her

foundation piecing method with.


Note: Toni

will not

be having class on the last Tuesday this month.


New Block of the Month

Woodland Whimsy BOM
by Amy McClellan
Finally! We have our our materials to start on these adorable blocks! This is a 12 month program. There are 10 critter blocks. You choose 9 blocks to use in the quilt and one is a bonus block that you can use a pillow if you want. The last 2 months are adding appliques to the borders. It will be $22.50 each month.

We will offer a thread kit for $21.50 a month for 10 months. They will include the following specialty embroidery threads: Sue Spargo's Eleganza pearl cotton in sizes 8, 5, and 3 and The Thread Gatherer's Silken Pearl SP3 and SP10 and Silken Chenille. Amy uses these threads to embellish her designs. Of coarse you can use any threads or floss you have but you might enjoy working with these beautiful threads if you have not had a chance to yet!

Amy also uses stitches from the book The Right-Handed Embroiderer's Companion (there is also a left-handed version) by Yvette Stanton. We sell the book for $28.00. We also have Creative Stitching by Sue Spargo for $32.00.
Both of these are helpful guides for stitches used in these blocks.


This is a line drawing of the of the finished quilt. She doesn't have a color photo as of yet. Finished size approximately 54 x 60.
Our amazing icicle at the store. It has been growing all winter
and touches the ground so it is now a column.
It has been a very cold winter so far!!!
Deer Country Quilts