September 2018

It is hard to believe it is September! I love the change in weather though. We have had some nice cool days and even some rain. Instant fall! It is a 100% improvement over last year at this time. I always think that I don't have anything to do the next month but then I am always wrong. Somehow the weekends fill up before the calendar flips over. We will spend a lot of time measuring and planning how we will arrange our new space and cleaning out all non-essential stuff! We hopefully plan to move in November before the snow falls and after my grand baby in Red Lodge makes an appearance. I might need a few pumpkin spice lattes to keep me going the next couple months. In the meantime....Happy Quilting, Pam



WE DON'T WANT TO MOVE IT FABRIC CLEARANCE!
We have gone through the store and have put foil star stickers on hundreds bolts of fabric that we would rather not have to move! Any bolt with a star sticker (any color) is 30% off during September and October. There is a 1/2 yard minimum cut and we cannot cut fat quarters. They won't count on your yardage card. Many of these fabrics are just ready to retire or have lost their friends from a specific collection. They include a lot of basics, holiday, and batiks!

Janome sewing machines- 20% off the Deer Country Quilts price. Limited to current supply in store.


*On the Calendar
*

Our classes usually begin at 10:00 unless noted otherwise.
Souper Sew Day
Friday September 7th
Bring your projects and enjoy the company of others while you sew! Lunch provided, $5.00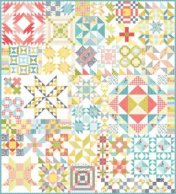 Saturday BOM-
Saturday September 8th
We will begin working on Dessert Sampler Quilt Kit by Moda. We are breaking this quilt into 12 months. All of the different blocks will make this a fun quilt to work on! The kit is $199 but will be divided into 12 monthly payments with the class.
Machine Embroidery Daze
Monday September 10 - Wednesday 12th
This is a group event for those with embroidery machines and would like to devote time to working with your embroidery machines. Machines can be set up and left for 3 days. Come and share your projects and tips with each other.

Tourist Tote Bag with Sarina
Thursday September 13th
Sarina has made a couple of these totes so she knows all the tricks to help you make one in a snap! On this bag she used metallic cork for the base and linen for the top and handles. The pattern is by Sew Many Creations.
Jungle Fever with Sharon
Wednesday September 19th and 26th
The stack, cut, and shuffle method is used to make the the blocks in Jungle Fever. The pattern is designed to to used with 10" squares. The directions include a layout for a lap, throw, twin, and queen sizes. Pattern by The Quilt Company.

Foundation Piecing Toni's Way
Saturday September 15th and Tuesday 25th
This is an open group for anyone who wants to learn Toni's method of foundation piecing using pattern ease. She has printed foundations for a variety of patterns. You must purchase each pattern and an additional charge for her printed foundations is separate.


The ultimate stash storage system!
Deer Country Quilts