Skip Navigation
Website Accessibility
Deer Country Quilts Newsletter
www.deercountryquilts

April 2019

Happy April!
Retreats are over and now I'm recovering! I love the break they provide to what seems to be an otherwise overly long March. I also love reconnecting with friends. If only life could be one big quilt retreat! April feels like a transition time as we wait for the snow to leave and the temperatures to rise. Waiting for the mud to disappear so walking isn't so messy. Waiting for the ground to thaw so we can get in the garden. Waiting for the 1st of the flowers to pop up. Mister Rodgers had a little song "what can you do while you're waiting, while you're waiting let's think of something to do"... I guess quilting is a good thing to do while we wait. Time to catch up on some older projects that need to be finished!
Happy Quilting, Pam

We will be closed on Easter Sunday (4/21)
Have a blessed Easter!


Some Spring Inspiration



Springtime Rabbit by Norma Whaley
Our wool applique pillow kit is $35.00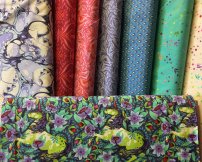 Tula Pink's Pinkerville!

New Block-of-the-Months for 2019



North Stars by Elizabeth Hartman
Elizabeth Hartman designs such delightful patterns and North Stars is no exception! Each block is 24" square. There are 9 adorable North American animals that create an 82" x 82" quilt. Sarina's blocks are completed and are just waiting for sashing! The cost each month is $25 which includes the book, sashing and binding.



Sew Love Quilt by Heart to Hand
Give your sewing room a fresh spring makeover with this sweet quilt. Terry Vick made quilt using wool applique on cotton backgrounds. The finished quilt comes to 51" x 63". There are 4 rows that make up the kit and is $40 for each row. The price includes the pattern and borders (binding not included).

You can call the store to sign up for any of our block of the months. We will keep your credit card on file and charge and mail your block at the 1st of each month. You can see our other BOMs that are still available on our web site!


Monthly Gatherings and Classes

Souper Sew is tomorrow!! Join us on the 1st Friday of every month for soup and conversation while you work on your projects! $5.00



2nd Saturday BOM (4/13)- We are currently working on the Dessert Sampler Quilt by Moda using their Color Cut fabric rolls. $16.50/12 months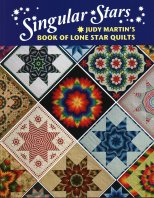 Foundation Piecing with Toni (4/9, 20, 30)- Join Toni again as she will be teaching a Lone Star quilt from Judy Martin's book Singular Stars! Toni's star is made with just 2 fabrics!! She used an ombre fabric to create a stunning affect. You can pick from any of the Lone Star layouts from the book. There will need to be a prep day to pick fabrics and cut. You can begin on any of the days but you will need a 2nd day to sew. The book is $29.95.
Toni is available on any of those days to help you with any of her foundation pieced patterns.



Fun with Dresdens (Wednesday 4/10)
LaRee has always loved the Dresden block and found out how easy it is to do with EZ Quilting's Dresden ruler. You can make 1 block and turn it into a pillow or make a whole quilt. What a great block to use up those scraps. The ruler is only $7.89.



Hand Stitching (Thursday 4/18)
We find hand stitching to be very therapeutic for the soul, even more so with friends! Bring whatever hand work you are working on whether it is a wool project, embroidery or simply have a quilt to bind. No skill is required. We can all share ideas and techniques and learn from each other!




Happy Holidays Table Mat (Tuesday 4/23)
LaRee and Sarina have been making this little table mat by Atkinson Designs in a variety of fabrics to celebrate almost any holiday. The pattern includes instructions for 3 different sizes of table mats or make a tree skirt. Our kits make the small version (20" x 23") and are $15.00. The pattern uses a 60 degree ruler to make those angles. It is a great gift idea!




It is soooo close!



Deer Country Quilts