June 2019

Happy June and Welcome Summer!!!
Back in March, Tammy Lewis called me and said "remember how we always said we wanted to go somewhere and take a class from Sue Spargo"?? So we are leaving this Saturday to take a class from Sue, in the Mediterranean, on the Holland American cruise line, on a 12 day cruise! We fly to Rome and have a 3 day tour there before the cruise. We will go to Spain, France, Monte Carlo and then back to Italy. We have 9 excursions in various cities. Along with a class from Sue, we will take a class with Liza Prior Lucy and Jillian Travis from the UK. We fly back on the 25th. What a trip of a lifetime! Two of the classes are by hand (wool applique and English paper piecing) and the other is a fusible applique with painting so there are no sewing machines involved. It makes it easy to pack hand needles! The rest of the packing not so much! Clothes, shoes, swim wear, hats, etc... I hope my suitcase does not exceed the weight limit!! If I can figure out internet I will try to post some pictures on facebook. So while I am cruising, Happy Quilting to you! Pam

Reminder: Our summer hours for Sundays is 11:00 - 4:00

Featured Item for Spring:




Patiently Waiting
by Primitive Gatherings
$70.00
Wool kit measures 10" x 36". Includes backing.

Featured Items for Christmas - Time to start thinking about it!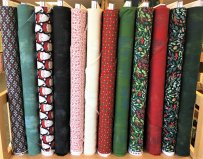 Kringle Claus by Basic Grey
Grunges included in the line!



Holiday Lodge by Deb Strain
Panel and coordinates.
And coming soon...


Home For Christmas Quilt Kit



Be Full of Peace
by Plumcute Designs
$35.50
Kit includes toweling by Moda, fabric for prairie points and Cosmo floss to make this charming pillow!


Monthly Gatherings and Classes
Call the store to sign up and for information about class supplies.

Souper Sew is this Friday!! Join us on the 1st Friday of every month for soup and conversation while you work on your projects! $5.00



Foundation Piecing with Toni
June 11th, 15th and 25th
The Wrapsody is an ongoing class for those who started it last month. Toni will help anyone who would like to start to make one if you missed last month. This is a perfect bag to stay organized! Unique features include: 3 zippered-pocket dividers, 1 zippered exterior pocket, 3 or more loyalty - credit card holders & 4 separate and roomy interior compartments. It can be used as a cross body or shoulder style. We think it would be great for sewing supplies or as a make up bag also. It is 10" x 5.5" x 6.5" tall. Pattern is $12.99.
Toni is available on any of those days to help you with any of her foundation pieced patterns.



Stripes and Stars Pillow with LaRee
June 14th
Celebrate Flag Day by coming in to make a quick patriotic pillow (or wall hanging). We will have kits for our version available to make the top for $15.00 which include the pattern by Moda.



Machine Quilting with Teresa
June 17th and 18th
Teresa is going to teach you the basics of quilting with your own machine! Dropping your feed dogs and going for it does not have to be a scary thing again! This class will give you all the confidence you need. Whether you want to learn to machine quilt or take a refresher, Teresa has some great techniques she will share. You can purchase a panel for $5.00 that will be perfect to practice on.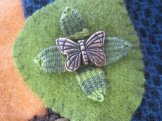 Hand Stitching
June 20th
We find hand stitching to be very therapeutic for the soul, even more so with friends! Bring whatever hand work you are working on whether it is a wool project, embroidery or simply have a quilt to bind. No skill is required. We can all share ideas and techniques and learn from each other!


Deer Country Quilts is a Janome Dealer
We provide cleaning and repair services. Call to schedule a time to bring your machine in if it needs serviced.
Come in and check out these machine models that are perfect for your quilting needs!


4120QDC-B MC6700





This is why husbands get to stay at home!


Deer Country Quilts