August 2019

Happy August!
We are going into the lazy days of summer. Lazy because I really don't feel like doing anything much after work. We manage to get a walk in with Jeter in the evening which he absolutely loves! The huckleberries are ready to pick so we'll have to spend some evenings in the berry patch! I do get to watch my grandson Trevin this weekend. Megan is in a wedding in the Flathead and will drop him off on her way there. I really don't plan on getting much done then! Libby (our oldest grand daughter) will be turning 9 this Saturday so we get to have a birthday party at the lake. Tomoko will come with Claire and Noah so I will have all 7 grand kids in one place! That doesn't happen very often! We do have a full class schedule this month so if you are looking for something to do and are wanting some company doing it make sure to call and sign up. What better way to spend your time and we have air conditioning! Happy Quilting, Pam


Monthly Gatherings and Classes
Call the store to sign up and for information about class supplies.



Souper Sew is this Friday!! Join us on the 1st Friday of every month for soup and conversation while you work on your projects! $5.00



Foundation Piecing with Toni
August 13th, 17th and 27th
Toni is available on any of those days to help you with any of her foundation pieced patterns. You can come and learn Toni's foundation pieced method or come and work on an existing project you have started with her.



Machine Quilting with Teresa
August 12th and 14th
Teresa is going to teach you the basics of quilting with your own machine! Dropping your feed dogs and going for it does not have to be a scary thing again! This class will give you all the confidence you need. Whether you want to learn to machine quilt or take a refresher, Teresa has some great techniques she will share. You can purchase a panel for $5.00 that will be perfect to practice on. You can also practice on muslin sandwiches.



Fun with Dresdens and/or Happy Holidays Table Mat
August 15th
LaRee is going to show you how to use the dresden ruler and the 60 degree ruler to make either of these blocks. The dresden block can be turned into a pillow or make a whole quilt with them. This time of year I see sunflowers!
Make this little table mat by Atkinson Designs in a variety of fabrics to celebrate almost any holiday. Pattern comes in 3 sizes. The large size can used for a tree skirt. We have kits for the small size for various seasons.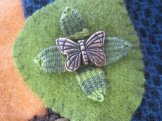 Hand Stitching
August 16th
We find hand stitching to be very therapeutic for the soul, even more so with friends! Bring whatever hand work you are working on whether it is a wool project, embroidery or simply have a quilt to bind. No skill is required. We can all share ideas and techniques and learn from each other!



Punch Needle
Christmas in the Country by Brenda Gervais
August 19th
Learn punch needle with Pam and fall in love with this fun art form! Use embroidery floss and the needle to make loops on the front side that form the picture. It has the look of a mini rug. You can then frame it, make a pillow, attach to the top of decorative boxes, or whatever else you can think of. Our kit includes the pattern, pre-printed weavers cloth and all embroidery floss listed to make a 5" x 5" Santa. Kit is $55. Ultra Punch Needle is $26.00. You will also need a large embroidery hoop.



Fab Five with Vicki Scalise
August 23
Vicki will show you how quick and easy it is to use the Fab Five Ruler by Abbey Lane. So quick and easy she has made 4 of them so far! In these pictures, she has used her collection of Christmas metallic fabrics, Kaffe fabrics, and sock monkey fabrics for an adorable kids quilt. She made up her own quilt by sashing the rows that use the ruler. Abbey Lane has a variety of patterns to go along with the ruler. This is a perfect ruler to use as a stash buster!



Wool Feather Tree
August 29th
We love these wool feather trees that can be decorated for any season. Kits include the pattern, wool strips, dowel, florist wire and base. All you add is glue! No sewing involved. You might want to make a whole forest! We have limited space so call to reserve your space and pick your tree color.


Deer Country Quilts is a Janome Dealer
We provide cleaning and repair services. Call to schedule a time to bring your machine in if it needs serviced.
Come in and check out these machine models that are perfect for your quilting needs!


4120QDC-B MC6700

We have 2 Grace Frames combined with a Janome 1600P for sale. There is one metal frame and one wood frame. We also have one 8900QCP left in stock. Stop in for more information and special pricing!






Deer Country Quilts