September 2019

Happy September!
Already!??
Yes it is hard to believe that summer is almost gone. Every thing is fall this and fall that everywhere you look. I have to say, the Pumpkin Cream Cold Brew at Starbucks is super yummy! Yes, I am one of those who love the PSL season! Season changes seem to say let's recharge and begin something new! I know I have been working on a couple of new fall projects for store samples. My problem is that I love the fall colors and themes but I can't do them all!
September is National Sewing Month! Like we really need a month set aside for that! But yay that summer is winding down and it is time for a new schedule that definitely needs to include machine time.
Happy 37th Anniversary to my true love! (9/4)
Happy Quilting, Pam

After Labor Day Sunday Hours: Sunday 12:00 - 4:00

Time to get your Halloween on!
It will be here fast! We have a little bit of every thing to inspire some spooky creativity! Most of these can be found on our web store. Here's what we have:



This is a not quite finished (but oh so close) "Happy Happy Halloween" project by Crab Apple Hill! This guy will go in a black frame. Patterns, frames and threads will be available soon!



The pattern "Spellbound" by Tiori Designs works perfectly with The Come Sit A Spell 2 1/2" strips by Wilmington. We used a Grunge background by Moda. The Spellbound Lap Kit finishes to 40" x 60".



"Hallo Harvest" by Basic Grey for Moda is a super cute line. We have 13 skus available along with charms, mini charms and fat quarter packs. The "Happy Halloween" book by Lavender Lime uses the line to make adorable table runners and a wall hanging.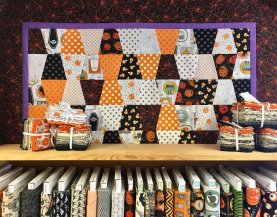 It's Sew Emma has a new book out "Witch's Night Out" that is all fun and no fright. You can make the quilt or use elements to create whatever you fancy. Use a particular fabric line or it could be great for scraps.
A little bit of a lot of different Halloween prints go a long way in the tumbler quilt made by Teresa. She used creative grids tumbler ruler to make cutting quick and easy. Throw on a border for a super cute throw.



Super cute candy corn table topper. It will look even better sitting under a bowl of trick-or-treat candy! Pattern is "Happy Holidays" by Atkinson Designs.



Panels, Panels, Panels! "Something Wicked" is a 24" by 44" panel by Clothworks.
The other 3 are Hoffman's "Super Nova Seasons" panels. You can put a border on these for an instant quilt with a little bit of work!


Monthly Gatherings and Classes
Call the store to sign up and for information about class supplies.



Souper Sew is this Friday!! Join us on the 1st Friday of every month for soup and conversation while you work on your projects! $5.00




Foundation Piecing with Toni
September 10th, 21st, and 24th
Toni is available on any of those days to help you with any of her foundation pieced patterns. You can come and learn Toni's foundation pieced method or come and work on an existing project you have started with her.




Fab Five with Vicki Scalise
September 13th
Vicki will show you how quick and easy it is to use the Fab Five Ruler by Abbey Lane. So quick and easy she has made many of them! Here she used Kaffe fabrics, and sock monkey fabrics for an adorable kids quilt. She made up her own quilt by sashing the rows that use the ruler. Abbey Lane has a variety of patterns to go along with the ruler. This is a perfect ruler to use as a stash buster!



2nd Saturday Class
Ryokan (Japanese Inn)
September 14th, 10:00-12:00
We are beginning a new BOM this month! "Ryokan" is by ThimbleCreek Quilts. The little houses are all the same and the 6" block in the house changes each month. We are using mostly Japanese taupes in our quilt. It will measure 62" x 75" when completed. $12.00/month for 12 months.



Holiday Tree Wreath Ornament
September 14th, 1:00
Sue Kraus from Deer Lodge made these cute 4" folded fabric ornaments and has offered to show us how they are made. This project will only take a couple hours to complete. Pattern will need to be purchased ($3.50). We will have grommets for purchase. It also takes a little fabric, ribbon and
nine 1/2" buttons.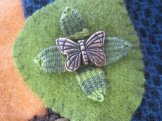 Hand Stitching
September 20th
We find hand stitching to be very therapeutic for the soul, even more so with friends! Bring whatever hand work you are working on whether it is a wool project, embroidery or simply have a quilt to bind. No skill is required. We can all share ideas and techniques and learn from each other!



Fandango
September 28th
Sarina is making "Fandango" by Villa Rosa Designs (54" x 75"). It is a simple enough quilt for beginners. Villa Rosa patterns are perfect for showcasing those fun novelty prints. Sarina is using our "Catch and Release" line by Art Gallery Fabrics. So whether you need a beginning quilt class or need the perfect project to use that one fabric, join Sarina for a fun day.




I must be super cool....lol!!!


Deer Country Quilts