November 2019

Have a Happy Thanksgiving from all of us!!





We will be closed Thanksgiving Day.





***Holiday Open House***


We will have an open house on Small Business Saturday. Join us for cookies and hot drinks. Also, Friday - Sunday, take 20% off all Christmas fabric, panels, precuts, and Swell Christmas Tin sets.

Upcoming Classes:
With the busy holidays, make sure you get these on your December calendar now!


Jubilant Table Runner
December 4th & 5th
Get in the holiday spirit by decorating with a new table runner. LaRee will help you construct this 17 1/2" x 51 1/2" runner from the book "Winterlude" by Doug Leko.


Mitten Make and Take
December 8th or 13th

This little mitten was designed by Sharon. It makes a great introduction to wool applique. You will be able to make this in a couple hours! We will have wool kits available for Sharon's mitten. You can also choose from one of our wool felt kits. These are
open at the top to form a pocket which can be filled with treats, or use as gift card holders, gift tags, or ornaments.

Holiday Tree Wreath Ornament Make and Take
December 10th

Make these cute 4" folded fabric ornaments in a couple hours. Pattern will need to be purchased ($3.50). We will have grommets for purchase. It also takes a little fabric, ribbon and
nine 1/2" buttons.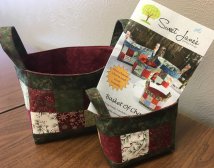 Holiday Baskets with LaRee
December 11th
Choose either the Handy Baskets or Sweet Charms Baskets. They would make cute gifts filled with treats or used for decorating. LaRee can help you with either style!



***Save the Date***




December 27th - 29th: Annual Winter Sale