December 2019

Happy December!
So here we at the most wonderful time of the year! The decorations, lights, and music really are the best. With Thanksgiving so late, Christmas seems to be coming up very quickly! So much so that I seem very unprepared. I think we will have a very low key Christmas this year though which is fine with me. The older I get, I don't hustle and bustle as well! I am MUCH better at sitting and watching Hallmark movies!
We hope you have joy, peace, and good cheer during this holiday season!
Merry Christmas!
Pam, Sarina, LaRee, Teresa, Sharon, Terry, and Toni



***Holiday Hours***


December 24th: 10:00 - 3:00
December 25th and 26th: Closed
December 31st: 10:00 - 3:00
January 1st: Closed

Note: We will now be closing at 4:00 on Saturdays starting Dec. 7th.


Friday, Saturday, Sunday December 27th, 28th, and 29th
All regular priced fabrics, books, patterns, and notions are 25%!
Christmas fabrics 35% off
Featured Products: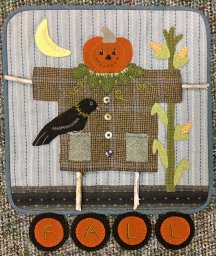 Clothesline Scarecrow by Heart to Hand
Although it may be a little past the season, technically it still is fall. We think the clothesline seasonal series are so cute! This 14" x 17" wall hanging is wool applique on a cotton background. Kit is $33.



Home Sweet Home by Bonnie Sullivan
Enter the warm and welcoming world of Bonnie Sullivan's Home Sweet Home Flannel by Maywood Studio and delight in her sweet birds, tossed churn dashes, and charming cornucopias. Quilt measures 44" x 44" and is $100. We have many of the Home Sweet Home fabrics on the bolt also.



Most Wonderful Time by Bonnie Sullivan
Create a most wonderful quilt with this flannel fat quarter pack that includes 2 panels and 11 fat quarters from Maywood Studio. $64.00

Monthly Gatherings and Classes


Call the store to sign up and for information about class supplies.




Souper Sew is this Friday!!
Join us on the 1st Friday of every month for soup and conversation while you work on your projects! $5.00

Jubilant Table Runner
December 4th & 5th
Get in the holiday spirit by decorating with a new table runner. LaRee will help you construct this 17 1/2" x 51 1/2" runner from the book "Winterlude" by Doug Leko.


Mitten Make and Take
December 8th or 13th

This little mitten was designed by Sharon. It makes a great introduction to wool applique. You will be able to make this in a couple hours! We will have wool kits available for Sharon's mitten. You can also choose from one of our wool felt kits. These are
open at the top to form a pocket which can be filled with treats, or use as gift card holders, gift tags, or ornaments.

Holiday Tree Wreath Ornament Make and Take
December 10th

Make these cute 4" folded fabric ornaments in a couple hours. Pattern will need to be purchased ($3.50). We will have grommets for purchase. It also takes a little fabric, ribbon and
nine 1/2" buttons.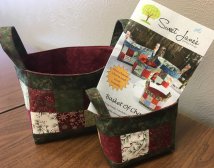 Holiday Baskets with LaRee
December 11th
Choose either the Handy Baskets or Sweet Charms Baskets. They would make cute gifts filled with treats or used for decorating. LaRee can help you with either style!



2nd Saturday Class
December 14th, 10:00-12:00

"Ryokan" means Japanese Inn and the pattern is by ThimbleCreek Quilts. The little houses are all the same and the 6" block in the house changes each month. We are using mostly Japanese taupes in our quilt. It will measure 62" x 75" when completed. $12.00/month for 12 months.

I think I need this in my life.
It would make an adorable quilt!

Deer Country Quilts