October 2020
It's pumpkin season!! Yay!! I love pumpkin everything - pumpkin bread, pumpkin pie, pumpkin cheesecake, pumpkin spice creamer - oh boy! I can feel my thighs grow just talking about it all.....also, I'm eagerly awaiting the change of colors, especially all of the gorgeous tamaracks we have in Seeley Lake!

We won't be hosting our usual fall retreats this month, but we will be participating in a Shop Hop - October 8th-18th - and we hope to see many of you during that time. Visit all 6 participating shops and get your passport stamped for a chance to win the big prizes ($300 in gift certificates, or a quilter's tool package valued at $125). We will also have our own door prize at our shop. The participating shops are: Quilters Corner (Deer Lodge), Upper Thread & Embroidery (Anaconda), Sew Unique (Philipsburg), Goin' Quilting (Missoula), Confident Stitch (Missoula), and Deer Country Quilts (Seeley Lake).

We have a few kits that have just ONE left, and I put them on sale on our "Featured!" tab on our website Check it out. http://www.deercountryquilts.com/shop/Featured.htm

Thank you for your continued support!
It has been an amazing four months!
With gratitude,
Sarina


---
Please call our store to sign up for classes (406) 677-2730. Classes start at 10:15am, or 12:15pm as stated in the class description. The instruction is free. You can find more information for each class on our website by clicking on the picture.

---

2nd Monday Class
(Formerly 2nd Saturday Class)
Monday, October 12th, 10:15am-1:00pm
We're starting a new class, with a new day, and new teachers. Join Teresa and Sarina for instruction on making "Six Halves Make a Whole Sampler" by The Quilt Branch, using Creative Grids' House Ruler. We have 2 colorways to choose from - one in warm, fall colors, and the other in cool, bright colors. The price is $12.75/month for 12 months for those attending class; we also have full kits for sale ($100 kit, $14.50 book, and $29.99 ruler) for those not attending class. This class is already full (with the ladies who used to attend Pam's 2nd Saturday class), but we would be happy to host this class on an additional day if there's more interest.


---

Decorative Pumpkins
Thursday, October 15th, 10:15am
Join LaRee in making these quick and easy pumpkins
to decorate for Fall!


---
Tourist Tote Bag
Saturday, October 24th, 10:15am

Sarina has made a couple of these totes so she knows all the tricks to help you make one in a snap! On this bag she used metallic cork for the base and linen for the top and handles. The pattern is by Sew Many Creations.
---


Beginners Sewing Project - Pillow
Sunday, October 25th, 12:15pm
Learn how to make a cute throw pillow like this one that LaRee made! It is the perfect project for a beginner! You will learn about piecing, quilting, and binding - all in one small project. LaRee also made a pillow and wall hanging from a panel, and she can teach that too.


---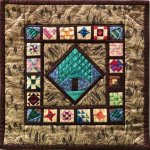 Miniatures with Toni
Tuesday, October 27th
Toni has been doing miniatures for years and has quite a collection of them. She is going to be teaching some using her foundation piecing. You will need to purchase Toni's foundation pattern from her.
---