December 2020
Happy December, friends!! The month of anticipation and hustle & bustle is here. My hope is that even if this year has been filled with trials we are still filled with holiday cheer and love. I am pretty sure I enjoy giving gifts as much as (if not more than) getting them - the joy that even a small gift can bring to someone. This year the gift of our annual winter discount falls before Christmas.
Come shop our Annual Winter Sale December 18-21: 25% off of regular-priced fabrics, patterns, books, notions, batting and kits; 35% off of Christmas fabrics!!

We will be closing at 2pm on December 24th, and we will be closed December 25th and 26th and January 1st.

Have a Merry Christmas,
Sarina


---
Please call our store to sign up for classes (406) 677-2730. Classes start at 10:15am, or 12:15pm as stated in the class description. The instruction is free. You can find more information for each class on our website by clicking on the picture.

---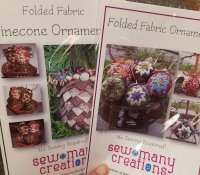 Folded Fabric Ornaments
Thursday, December 10th, 10:15am
These folded fabric ornaments are so easy and fun to make - no sewing required!! Choose either the star or pinecone ornaments (or both).
---

2nd Monday Class
(Formerly 2nd Saturday Class)
Monday, December 14th, 10:15am-1:00pm
We're starting a new class, with a new day, and new teachers. Join Teresa and Sarina for instruction on making "Six Halves Make a Whole Sampler" by The Quilt Branch, using Creative Grids' House Ruler. We have 2 colorways to choose from - one in warm, fall colors, and the other in cool, bright colors. The price is $12.75/month for 12 months for those attending class; we also have full kits for sale ($100 kit, $14.50 book, and $29.99 ruler) for those not attending class. This class is already full (with the ladies who used to attend Pam's 2nd Saturday class), but we would be happy to host this class on an additional day if there's more interest.

---

Christmas Tree Napkins
Tuesday, December 15th, 10:15am
Turn two 1/2 yd pieces of contrasting fabrics into 4 napkins in a flash! Make them as last minute gifts, or for your own dining experience.

---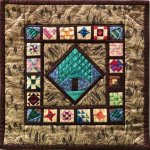 Miniatures with Toni
Tuesday, December 29th
Toni has been doing miniatures for years and has quite a collection of them. She is going to be teaching some using her foundation piecing. You will need to purchase Toni's foundation pattern from her.
---

Deck The Halls panel by Stacy Iest Hsu for Moda Fabrics
You won't need a class for this one, but we wanted to show you anyhow :) Buy your panel today and have this wall hanging done by THIS Christmas!
---