January 2021
Happy New Year!! I'm looking forward to 2021 and praying it is filled with an abundance of blessings. This last year may have seemed to be full of trials, but out of trials we can gain strength. Thank you for being a part of our journey to strength last year, and may you be filled with strength as we embrace this new year! We are still experiencing some delays in the arrival of new fabrics and sewing machines but I have faith that the companies will continue to catch up and keep our store filled with all of the temptations we are accustomed to. Thank you again for making 2020 a great year for our store!!

With gratitude,
Sarina


NEW FABRIC ALERT!!!
We just got Jason Yenter's "Urban Jungle" and Tula Pink's "Linework" in stock, and we are so excited! Click on the pictures to view the fabrics on our website.

---
Please call our store to sign up for classes (406) 677-2730. Classes start at 10:15am, or 12:15pm as stated in the class description, and are limited to 4 students. The instruction is free. You can find more information for each class on our website by clicking on the picture.

---

2nd Monday Class
(Formerly 2nd Saturday Class)
Monday, January 11th, 10:15am-1:00pm
We're starting a new class, with a new day, and new teachers. Join Teresa and Sarina for instruction on making "Six Halves Make a Whole Sampler" by The Quilt Branch, using Creative Grids' House Ruler. We have 2 colorways to choose from - one in warm, fall colors, and the other in cool, bright colors. The price is $12.75/month for 12 months for those attending class; we also have full kits for sale ($100 kit, $14.50 book, and $29.99 ruler) for those not attending class. This class is already full (with the ladies who used to attend Pam's 2nd Saturday class), but we would be happy to host this class on an additional day if there's more interest.

---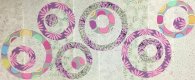 Orbits Table Runner
Monday, January 25th
Join Teresa in making a table runner with perfect circles. The pattern is "Orbits" by Christine Quilts and uses the Creative Grids "Circle Savvy Ruler".

---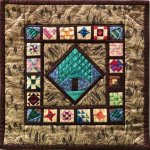 Miniatures with Toni
Tuesday, January 26th
Toni has been doing miniatures for years and has quite a collection of them. She is going to be teaching some using her foundation piecing. You will need to purchase Toni's foundation pattern from her.

Toni will also be teaching a "One Block Wonder" class on Tuesday, February 9th. There will be an informational meeting for that class following January 26th's class (about 1:15pm). This class will continue once a month for 4 months, as Toni has lots of tips and tricks to teach you. More information will be posted on our website soon.

---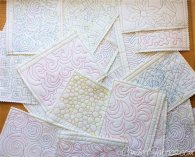 Free-motion Quilting
February 1st & 2nd
Come learn how to free-motion quilt on your sewing machine. This is a two-day class, and you will be able to leave your machine and supplies at our store overnight.

---

New Block of the Month (BOM) opportunity! LaRee is making these adorable bitty barn blocks by This & That which will make the perfect decoration for every month! Each month's fabrics will be specific to the coordinating month (i.e. January - blue/snowflakes, February - pink/red, etc.). Each month will include the fabrics for the top, binding and backing for the 8 1/2" block; the patterns will be included in the 1st, 4th, 7th, and 10th months. This BOM program will be $10 a month for 12 months. Call our store to sign up!