February 2021
Ah, February! - the month of finding out how much longer winter will last (or for us in Seeley Lake, finding out if it will really begin) and celebrating your Valentine (or celebrating chocolate). Whatever the weather and whatever you choose to celebrate this month, I hope your hearts are filled with love and that your time is filled with what makes your heart happy (I'm hoping for sewing and chocolate)! Have a blessed month!! Thank you for your continued support!
With gratitude,
Sarina

I have a put few kits on sale on our "Featured!" tab on our website Check it out. http://www.deercountryquilts.com/shop/Featured.htm

New Fabric: "Love Never Fails" by QT Fabrics! Click on the pictures to get a closer look!

---
Please call our store to sign up for classes (406) 677-2730. Classes start at 10:15am, or 12:15pm as stated in the class description. The instruction is free. You can find more information for each class on our website by clicking on the picture.

---

2nd Monday Class
(Formerly 2nd Saturday Class)
Monday, February 8th, 10:15am-1:00pm
We're starting a new class, with a new day, and new teachers. Join Teresa and Sarina for instruction on making "Six Halves Make a Whole Sampler" by The Quilt Branch, using Creative Grids' House Ruler. We have 2 colorways to choose from - one in warm, fall colors, and the other in cool, bright colors.

---


Pinwheel/churndash Table Runner Class
Thursday, February 11th, anytime during business hours
LaRee will demonstrate how to construct these fun blocks and turn them into a table runner - or maybe you'll want to make a quilt!


---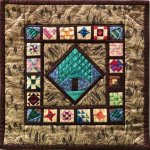 Miniatures with Toni
Tuesday, February 23rd
Toni has been doing miniatures for years and has quite a collection of them. She is going to be teaching some using her foundation piecing. You will need to purchase Toni's foundation pattern from her.

Toni will also be teaching a "One Block Wonder" class on Tuesday, February 9th.
---


New Block of the Month (BOM) opportunity! LaRee is making these adorable bitty barn blocks by This & That which will make the perfect decoration for every month! Each month's fabrics are specific to the coordinating month. Each month includes the fabrics for the top, binding and backing for the 8 1/2" block; the patterns will be included in the 1st, 4th, 7th, and 10th months. This BOM program is $10 a month for 12 months. Call our store to sign up!