April 2021
Happy April Fool's Day, Happy Easter, and Happy Spring!!! I hope you all had a wonderful holiday weekend this past weekend, filled with love and joy (and some candy too)! April showers do bring May flowers, and while I am so looking forward to seeing the flowers start to bloom I also hope to take advantage of the rainy days by sewing....hopefully you will too! Whether you need help with a current project or you need a new project to get you back in the groove, we are always here to help and to inspire!
Have a blessed month!! Thank you for your continued support!
With gratitude,
Sarina


---
Please call our store to sign up for classes (406) 677-2730. Classes start at 10:15am, or 12:15pm as stated in the class description. You can find more information for each class on our website by clicking on the picture.

---

2nd Monday Class
(Formerly 2nd Saturday Class)
Monday, April 12th, 10:15am-1:00pm
Monday, May 10th, 10:15am-1:00pm
Join Teresa and Sarina for instruction on making "Six Halves Make a Whole Sampler" by The Quilt Branch, using Creative Grids' House Ruler. We have 2 colorways to choose from - one in warm, fall colors, and the other in cool, bright colors. This class is free.


---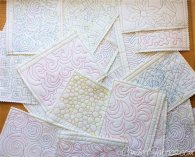 Free-motion Quilting
Thursday-Friday, April 15th-16th
Monday-Tuesday, May 17th-18th
Come learn how to free-motion quilt on your sewing machine. This is a two-day class, and you will be able to leave your machine and supplies at our store overnight. The fee for this class is $5.


---

One Block Wonder with Toni
Tuesday, April 20th
Tuesday, May 25th

Join Toni for this class on turning 7 of the same panel into one fabulous quilt! We will be offering this class for several months, as the first few sessions will be centered around prepping your fabrics.
The fee for each class is $10 to Toni.

---


New Block of the Month (BOM) opportunity! We are putting together kits for "The Santa, The Tree, The Turkey, & Me" by Hatched and Patched. It will be $15/month for 7 months, starting in May. Call our store for more information or to sign up!


I absolutely disagree, and I hope you too choose sewing over cleaning ;)


Deer Country Quilts