Skip Navigation
Website Accessibility
Deer Country Quilts Newsletter
www.deercountryquilts.com

May 2021

"Happy Spring!!! I love, love, love this time of the year - blooming flowers, budding trees, chirping birds, and sunshine! The snow is finally all gone from my yard, and my sewing ambition has returned. I know many of you are eager to do your gardening, but I've never had a "green thumb" so I'll stick with floral fabrics instead."........

That is what I had written, but then we woke up to a snow-covered yard this morning - what my son called "third winter." Here's hoping this third winter helps to keep the fire danger down this summer!

We are approaching my one-year-anniversary of owning the store....I can hardly believe it! I'm so appreciative of the opportunity, and of the support I have received!! I couldn't do this without all of our faithful customers! To show my appreciation, we will be having weekly sales starting May 30th. Here's how it will go:

May 30th - June 5th: 25% off Batting and Flannel
June 6th - June 12th: 25% off Kits and Books
June 13th - June 19th: 25% off Seasonal fabrics and Patterns
June 20th - June 26th: 25% off Batik yardage and Batik pre-cuts
June 27th - July 3rd: 25% off Outdoors/wildlife yardage, pre-cuts, and panels

With gratitude,
Sarina

---
We will be closed on Sunday, May 9th, in celebration of Mother's Day.
---

New BOM starting soon - Lucky Star by Sherry Shish of Powered by Quilting, featuring Island Batiks' line Love & Kisses. This Block of the Month will be $25/month for 9 months. The finished size is approximately 72"x84". Call us to sign up.

---
Please call our store to sign up for classes (406) 677-2730. Classes start at 10:15am, or 12:15pm as stated in the class description. You can find more information for each class on our website by clicking on the picture.

---

2nd Monday Class
Monday, May 10th, 10:15am-1:00pm
Monday, June 14th, 10:15am-1:00pm
Join Teresa and Sarina for instruction on making "Six Halves Make a Whole Sampler" by The Quilt Branch, using Creative Grids' House Ruler. We have 2 colorways to choose from - one in warm, fall colors, and the other in cool, bright colors.

---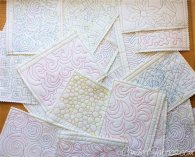 Free-motion Quilting
Monday-Tuesday, May 17th-18th 10:15am-3pm
June class TBD

Come learn how to free-motion quilt on your sewing machine. This is a two-day class, and you will be able to leave your machine and supplies at our store overnight. The fee for this class is $5.
---

One Block Wonder with Toni
Tuesday, May 11th and May 25th
Join Toni for this class on turning 7 of the same panel into one fabulous quilt! We will be offering this class for several months, as the first few sessions will be centered around prepping your fabrics.
The fee for each class is $10 to Toni.
---
We have put together kits for "The Santa, The Tree, The Turkey, & Me" by Hatched and Patched. It is $15/month for 7 months, starting now. We only have a few left, so call our store to sign up.

---

Also, we have Bitty Barn BOM kits still available. Pictured is May's block. Call to sign up!

---
We have been working hard at getting new samples done, and we have several new kits available, so be sure to check them out!
http://www.deercountryquilts.com/shop/Kits.htm

---