July 2021

Happy Independence Day! I hope you all have wonderful plans to celebrate this wonderful holiday, which is my very favorite holiday. I love celebrating the foundation of our amazing country! We are wrapping up the celebration of my anniversary and I must say I am incredibly grateful for all of the support!! You have kept our store hopping and we thank you for that. We look forward to continuing to serve your quilting needs.

With gratitude,
Sarina


---
We will be closed Sunday, July 4th. Happy Independence Day!!


---

New Kit!! Jeanette has been working on this new kit featuring Elizabeth Hartman's pattern "Lepidoptera." She chose bright fabrics for the butterflies and a black background that really makes them pop! The quilt will finish at 84"x84". Kits are available now, both in-store and on our website.


---

New BOM - Lucky Star by Sherry Shish of Powered by Quilting, featuring Island Batiks' line Love & Kisses. This Block of the Month is $25/month for 9 months. The finished size is approximately 72"x84". Call us to sign up.

---
Please call our store to sign up for classes (406) 677-2730. Classes start at 10:15am, or 12:15pm as stated in the class description. You can find more information for each class on our website by clicking on the picture.

---

2nd Monday Class
Monday, July 12th, 10:15am-1:00pm
Monday, August 9th, 10:15am-1:00pm
Join Teresa and Sarina for instruction on making "Six Halves Make a Whole Sampler" by The Quilt Branch, using Creative Grids' House Ruler. We have 2 colorways to choose from - one in warm, fall colors, and the other in cool, bright colors.

---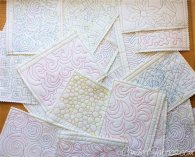 Free-motion Quilting
Monday-Tuesday, July 19th-20th, 10:15am-3pm
Monday-Tuesday, August 16th-17th, 10:15am-3pm


Come learn how to free-motion quilt on your sewing machine. This is a two-day class, and you will be able to leave your machine and supplies at our store overnight. The fee for this class is $5.


Teresa will start teaching Free-motion Quilting 2.0 (for anyone who has already taken the beginner class) starting in September.

---

One Block Wonder with Toni
Tuesday, July 27th
Tuesday, August 31st
Join Toni for this class on turning 7 of the same panel into one fabulous quilt! We will be offering this class for several months, as the first few sessions will be centered around prepping your fabrics.
*The fee for each class is $10 to Toni.*
---

We have Bitty Barn BOM kits still available, and will start doing this as a monthly class on the first Thursday of each month. These blocks are perfect for monthly decoration! August's class will be Thursday, August 5th. It is $10/month for 12 months, and the kits include the backing fabric as well. Call to sign up!

---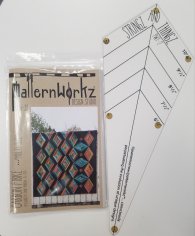 Carbon Fibre with Teresa
Monday, August 23rd
Grab your stash - or pick out new fabrics - and join Teresa in making this incredible string quilt! The template and pattern are sold together for $32.50, and are required for taking this class.
---


Keep working on those "half-done" and "someday" projects, and remember that none of us have perfect quilts!



Deer Country Quilts