September 2021

Ah, September! The month to celebrate Labor Day and the beginning of Autumn. Some are probably sad that there's only a couple weeks of summer left, and some are probably excited for it to be fall. No matter which end of the spectrum you're on, there's a big day this month that you can celebrate: National Sew A Jelly Roll Day! That's right, September 18th is National Sew A Jelly Roll Day. To celebrate, all 2.5" strip packs will be 18% off on Saturday, September 18th (this offer is only valid in-store).
We're also going to be participating in a Shop Hop from Thursday, September 23rd through Sunday, October 3rd. You can get a "passport" at the first shop you visit. Visit each participating shop and get your "passport" stamped. Once you've visited all of the shops, hand in your "passport" and get entered in for the grand prize drawing. Our store will also have our own prize drawing.




We hope to see you!
Thanks again for your support!
Sarina

---
Please call our store to sign up for classes (406) 677-2730. You can find more information for each class on our website by clicking on the picture.

---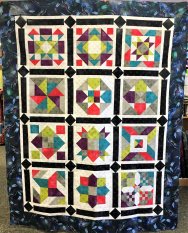 2nd Monday Class
Monday, September 13th, 10:15am-1:00pm
Join Teresa and Sarina for instruction on making "Six Halves Make a Whole Sampler" by The Quilt Branch, using Creative Grids' House Ruler.
This is our final month, but stay tuned for what we will make together next :)

---

Free-motion Quilting 2.0
Monday-Tuesday, September 20th-21st 10:15am-3pm
If you have already taken Teresa's free-motion quilting class and would like to expand your skills, this is the class for you! Teresa will guide you through quilting one of Hoffman's "Dream Big" panels. It will be best to have your panel already basted in a "quilt sandwich" before class.

---

One Block Wonder with Toni
Tuesday, September 28th
Join Toni for this class on turning 7 of the same panel into one fabulous quilt! We will be offering this class for several months, as the first few sessions will be centered around prepping your fabrics.
The fee for each class is $10 to Toni.
---

...And I wouldn't have it any other way!