October 2021
We have entered the final quarter of the year - how did that happen?! The trifecta of Holidays (Halloween, Thanksgiving, and Christmas) are quickly approaching, and the ground here will soon be covered in that white, fluffy stuff. This year has been another weird one for the books - with fabrics being delayed months and months and months... most of our fabrics arrived after the busy season instead of before the busy season. Our shelves are fully stocked now and ready for you all to come shop before the weather turns. OR if you prefer, shop from the comfort of your own home - we still offer in-store pickup, curbside pickup, and of course shipping to you. Thank you for your continued support!
Sincerely,
Sarina



"Moonstone" by Laundry Basket Quilts click here



"Through The Woods" by Sweetfire Road click here



"Lake Adventure" click here



"Fall Fantasy Flannels" by Holly Taylor click here



"Ladybug Mania" click here



"Around The World" click here
"Jungle Paradise" click here



So many Christmas fabrics! Click here


---
Please call our store to sign up for classes (406) 677-2730.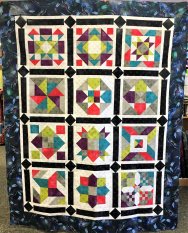 2nd Monday Class
Monday, October 11th, 10:15am-1:00pm
This is our final month (making up for last month).

---

Free-motion Quilting 2.0
Monday-Tuesday, November 15th-16th 10:15am-3pm
If you have already taken Teresa's free-motion quilting class and would like to expand your skills, this is the class for you! Teresa will guide you through quilting one of Hoffman's "Dream Big" panels. It will be best to have your panel already basted in a "quilt sandwich" before class.

---

One Block Wonder with Toni
Tuesday, October 26th
Join Toni for this class on turning 7 of the same panel into one fabulous quilt! We will be offering this class for several months, as the first few sessions will be centered around prepping your fabrics.
The fee for each class is $10 to Toni.
---