March 2023

When I shopped at Deer Country Quilts for the supplies for my first quilt in high school Home Economics class, I truly "had no idea that it would come to this." I enjoyed the class and loved my beautiful quilt, but I definitely did not catch the quilting bug. It was over a decade before life brought me back to Seeley Lake as a stay-at-home mom who had nothing better to do than come into Deer Country Quilts every day to stare in amazement at the beautiful fabrics and quilts. After weeks of this, Pam asked me if I wanted to work for her one day a week...and the "harmless hobby" began. Here I am, almost another decade later, living a dream I never knew I had. I am so grateful that this "harmless hobby" turned into the inspirational and creative outlet that I needed. I may have too many projects in process or lined up for "someday," but I will never regret it. Thank you to all of you who have helped me along this journey!

Gratefully,
Sarina
---
Please call our store to sign up for classes (406) 677-2730. Classes start at 10:15am, or 12:15pm as stated in the class description. You can find more information for each class on our website by clicking on the picture.


---

Soup-r-sew
Thursday, March 9th
Join us for a fun day of sewing and eating lunch with your friends! Bring a any project you want to work on. Lunch will be served around noon. Please let us know by Wednesday (the day before) if you will be coming, so that we can be sure to have enough food.
The fee is $5 (preferably cash, as this goes to the maker of the food and not to DCQ).


---
2nd Tuesday Class
Tuesday, March 14th
Join Teresa in making "Curve It Up" by Sew Kind of Wonderful. You will learn how to use Sew Kind of Wonderful's "Quick Curve Ruler" to make this curvacious quilt! The price is $15/month for twelve months, and includes the fabrics for the top (Layout #1) and binding, as well as the pattern. The Quick Curve Ruler is sold separately ($26.00).

---

Aspiring Stars BOM
Saturday, March 11th
Join Sarina in making "Aspiring Stars" by Michelle Renee Hiat & Lynn Wheatley, with Island Batiks.
You use the following Studio 180 Designs tools for precise cutting and piecing: Tucker Trimmer I, Wing Clipper I, Square Squared, V Block, and Rapid Fire Lemoyne Star.
It is $25/month for 12 months.
**You do not need to attend class in order to sign up for the BOM.**


---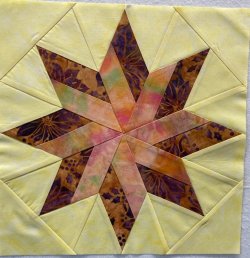 Wedge Star Tool
Tuesday, March 28th
Join Toni in learning how to use the "Wedge Star" tool by Deb Tucker of Studio 180 Design and make "Hollywood Boulevard" or "Argyle" by Sarah Furrer, or "Alaska" by Edyta Sitar! The fee for each class is $15 to Toni.
---
Deer Country Quilts is an authorized Janome dealer. We have machines and accessories for sale, and provide scheduled service for your Janome sewing machine.

Pleas do not reply to this email (it will go to spam). You can email directly at quilting@montana.com




Deer Country Quilts