Happy August! I had the honor of heading up my church's Vacation Bible School last week, so I skipped out on work...and now my newlsletter is a week late...sorry about that! I hope you are all enjoying summer! We have been struggling over here with a large forest fire (and the smoke that comes with it), as well as a massive road construction project...and then of course the increased costs of gas and groceries...so I chose the above meme to remind myself that we will make it through if we "scrap together." This too shall pass. Take care and enjoy the rest of your summer!
Gratefully,
Sarina
---
Please call our store to sign up for classes (406) 677-2730. Classes start at 10:15am, or 12:15pm as stated in the class description. You can find more information for each class on our website by clicking on the picture.
---
Soup-r-sew
Thursday, August 10th
Join us for a fun day of sewing and eating lunch with your friends! Bring a any project you want to work on. Lunch will be served around noon. Please let us know by Wednesday (the day before) if you will be coming, so that we can be sure to have enough food.
The fee is $5 (please bring cash, as this goes to the maker of the food and not to DCQ).
---
2nd Tuesday Class
Tuesday, August 8th
Join Teresa in making "Curve It Up" by Sew Kind of Wonderful. You will learn how to use Sew Kind of Wonderful's "Quick Curve Ruler" to make this curvacious quilt! The price is $15/month for twelve months, and includes the fabrics for the top (Layout #1) and binding, as well as the pattern. The Quick Curve Ruler is sold separately ($26.00).
---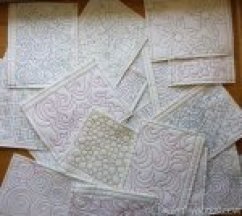 Free-motion Quilting
Monday-Tuesday, August 21st-22nd
10:15am-3:15pm
Come learn how to free-motion quilt on your sewing machine. This is a two-day class, and you will be able to leave your machine and supplies at our store overnight. Click on the picture for supply list in the class description.
---
Tumbleweeds
Tuesday, August 29th
Join Toni in making your own "Tumbleweeds" quilt! This fun quilt uses the pattern "Tumbleweeds" by Sarah Furrer for Studio 180 Designs and the "Corner Pop II" tool by Deb Tucker of Studio 180 Designs. You can make a 67"x67", 67"x103", or 85"x103" quilt. Patterns and tools will be available for purchase at our store.
The fee for this class is $15 to Toni.
---
One of our customers, Holly (pictured above), introduced us to "Dress a Girl Around the World" - an organization which distributes dresses to girls in other countries. We wanted to get involved, and we are inviting you to do the same. Above are a few pictures from one of our get-togethers for sewing dresses. Join us on Thursday, August 17th, making more dresses for this great cause! Bring your sewing machine and prewashed yardage, or just your sewing machine, as we have plenty of dresses cut and just needing to be sewn!
---
Deer Country Quilts is an authorized Janome dealer. We have machines and accessories for sale, and provide scheduled service for your Janome sewing machine.

Pleas do not reply to this email (it will go to spam). You can email directly at quilting@montana.com




Deer Country Quilts