September 2023

Last weekend, we finished up Freshmen Year of Tucker University (Boot Camp style) with Sue Paceley! It was such a blast, and we look forward to having her teach again next year - another Boot Camp style for Sophomore year, as well as a new Block of the Month - stay tuned for more information in the coming months!! Thank you to those who attended, and thank you to Sue Paceley for driving through the nasty road construction project each day for class! Here's a close up of the Lemoyne Star blocks made by each of the attendees of last month's boot camp.
Just a few announcements:
1) we are open regular hours for Labor Day weekend
2) starting next Sunday, Septemeber 10th, our Sunday hours change to 12pm-4pm
3) we have changed our birthday discount to 25%
Thank you for your understanding,
Sarina
---
Please call our store to sign up for classes (406) 677-2730. Classes start at 10:15am, or 12:15pm as stated in the class description. You can find more information for each class on our website by clicking on the picture.
---
Soup-r-sew
Thursday, September 14th
Join us for a fun day of sewing and eating lunch with your friends! Bring a any project you want to work on. Lunch will be served around noon. Please let us know by Wednesday (the day before) if you will be coming, so that we can be sure to have enough food.
The fee is $5 (preferably cash, as this goes to the maker of the food and not to DCQ).
---
2nd Tuesday Class
Tuesday, September 12th
Join Teresa in making "Curve It Up" by Sew Kind of Wonderful. You will learn how to use Sew Kind of Wonderful's "Quick Curve Ruler" to make this curvacious quilt! The price is $15/month for twelve months, and includes the fabrics for the top (Layout #1) and binding, as well as the pattern. The Quick Curve Ruler is sold separately ($26.00).
---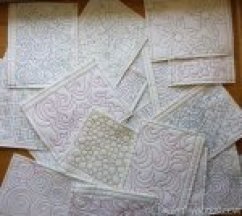 Free-motion Quilting
Monday-Tuesday, September 18th-19th
Come learn how to free-motion quilt on your sewing machine. This is a two-day class, and you will be able to leave your machine and supplies at our store overnight.
---
Tumbleweeds
Tuesday, September 26th
Join Toni in learning how to use the "Corner Pop II" tool by Deb Tucker of Studio 180 Design and make a "Tumbleweeds" quilt. The fee for each class is $15 to Toni.
---
Dress a Girl Around the World
Friday, Septemeber 29th
One of our customers, Holly, introduced us to "Dress a Girl Around the World" - an organization which distributes dresses to girls in other countries. We wanted to get involved, and we are inviting you to do the same. Join us in making more dresses for this great cause! Bring your sewing machine and prewashed yardage, or just your sewing machine, as we have plenty of dresses cut and just needing to be sewn!
---
Deer Country Quilts is an authorized Janome dealer. We have machines and accessories for sale, and provide scheduled service for your Janome sewing machine.

Pleas do not reply to this email (it will go to spam). You can email directly at quilting@montana.com




Deer Country Quilts